Dear Teachers, Librarians, and other History Educators, 
There is a lot of history to talk about. Presidents. Slavery. Pandemics. Civics. Democracy.
In the midst of our current crisis, while many schools are using remote or distant learning, I will offer a limited number of free virtual visits to Middle- and High schools this fall -subject to my availability- on my three books listed below.
You may request a free virtual visit on the topic of "Democracy and Dictatorships," the subject of my forthcoming book, STRONGMAN: The Rise of Five Dictators and the Fall of Democracy  (Holt Books, October 6, 2020). The book provides accounts of five of the most murderous dictators in modern history: Mussolini, Hitler, Stalin, Mao Zedong, and Saddam Hussein.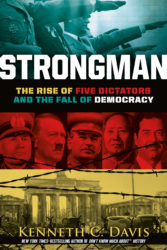 As we move through this Presidential election year, the issue of civic engagement is more important than ever. I hope to speak with Middle School and High School students and their teachers about what democracy is, what threatens democracy today, and how to protect it.
This is also a good time to talk about what we can learn from the 1918 Spanish flu pandemic during World War I. It is the subject of my book MORE DEADLY THAN WAR.
Finally, I continue to offer a limited number of free virtual visits about my book, IN THE SHADOW OF LIBERTY: The Hidden History of Slavery, Four Presidents, and Five Black Lives, now available in paperback.
In it, I tell the stories of five people who were enslaved by four American presidents — Washington, Jefferson, Madison, and Jackson.