About Kenneth C. Davis
Kenneth C. Davis is the author of Don't Know Much About® History, which spent 35 consecutive weeks on The New York Times bestseller list, and gave rise to the Don't Know Much About® series of books and audios, which has a combined in-print total of some 4.7-million copies.
In September 2020, Don't Know Much About® History: Anniversary Edition was released by HarperCollins. A  revised, updated, and expanded edition of the book that started the series thirty years ago, it presents a complete survey of American history, from before the arrival of Columbus in 1492 right through the events of the past decade –from 9/11 through the election of Barack Obama and the first years of his administration. This 30th anniversary edition included a new preface, "From the Era of Broken Trust to the Era of Broken Democracy."
Davis is also the author of the New York Times bestseller America's Hidden History: Untold Tales of the First Pilgrims, Fighting Women, and Forgotten Founders Who Shaped a Nation.

In September 2016, his book IN THE SHADOW OF LIBERTY: The Hidden History of Slavery, Four Presidents, and Five Black Lives was published to critical acclaim. In May 2018, MORE DEADLY THAN WAR: The Hidden History of the Spanish Flu and The First World War was published. In October 2020, STRONGMAN: The Rise of Five Dictators and the Fall of Democracy was released. In November 2022, Scribner published Great Short Books: A Year of Reading–Briefly.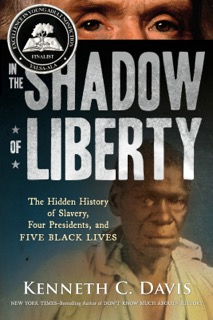 For more than 30 years, Kenneth C. Davis has proven that Americans don't hate history, just the dull version they slept through in class.
But many of them want to know now because their kids are asking them questions they can't answer. Davis's approach is to refresh us on the subjects we should have learned in school. He does it by busting myths, setting the record straight, and always remembering that fun is not a four-letter word.
Other points of note:
•Davis has spoken about teaching history to teachers' groups, such as the National Council for the Social Studies, and state and regional Social Studies conferences in Florida, New York, Maine, Connecticut, Vermont, and Massachusetts.
Davis uses technology to reach out to schools and teachers. He has visited hundreds of schools around the country and the world via Skype, Zoom and other online platforms
Davis speaks to both adult and student audiences. He regularly visits schools, and has spoken at such venues as the American Museum of Natural History, the New-York Historical Society, the National Constitution Center in Philadelphia, James Madison's Montpelier, James Monroe's Ash-Lawn Highland, and the Smithsonian Institution. He is available for school visits and speaking engagements
Kenneth C. Davis is a frequent media guest who has appeared on many television and radio shows, including NPR, CBS This Morning, C-Span, and CNN. He has been a commentator for "All Things Considered" and has written for the New York Times, Washington Post, CNN.com, and Smithsonian Magazine. (See Articles)
Davis has become an "Educator" with Ted-Ed, collaborating on the production of short animated videos for classroom use.
Davis lives and works in New York City