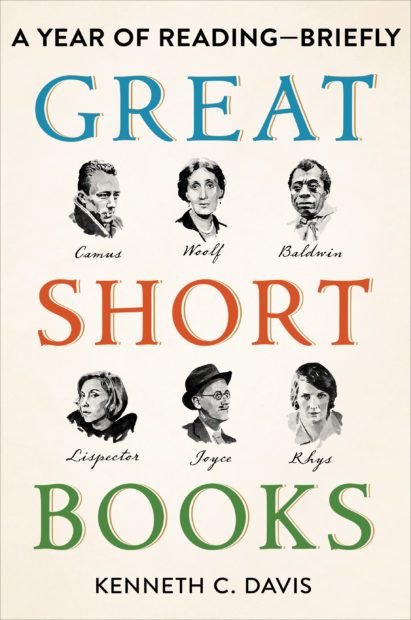 GREAT SHORT BOOKS:
A YEAR OF READING — BRIEFLY
Scribner/Simon & Schuster and Simon Audio (Unabridged audio download)
"An exciting guide to all that the world of fiction has to offer in 58 short novels — from 'The Great Gatsby' and 'Lord of the Flies' to the contemporary fiction of Colson Whitehead and Leïla Slimani — that, 'like a first date,' offer pleasure and excitement without commitment." New York Times Book Review

Booklist "Editors' Choice Adult Books 2022″

"…The most exceptional of the best books of 2022 reviewed in Booklist…"

"Delightfully accessible, Great Short Books: A Year of Reading–Briefly presents 58 fact-filled reviews of short books, a smorgasbord of titles sure to entice readers." –Cheryl McKeon, Shelf Awareness

"I consider Davis' 'Great Short Books' a gift to readers, a true treasure trove of literary recommendations." —Sue Gilmore, SFGate

"Anyone who's eternally time-strapped will treasure Kenneth C. Davis' Great Short Books. This nifty volume highlights 58 works of fiction chosen by Davis for their size (small) and impact (enormous). Each brisk read weighs in at around 200 pages but has the oomph of an epic." —Bookpage Full Review
"An entertaining journey with a fun, knowledgeable guide…. " Kirkus Reviews
"A must-purchase for public and school libraries." ALA Booklist
FIRST TRADE REVIEWS FROM KIRKUS, PUBLISHERS WEEKLY, BOOKLIST

"Davis feels that novels of 200 pages or less often don't get the recognition they deserve, and this delightful book is the remedy…A must-purchase for public and school libraries." *Starred Booklist review

"An entertaining journey with a fun, knowledgeable guide…. His love of books and reading shines through. From 1759 (Candide) to 2019 (The Nickel Boys), he's got you covered." –Kirkus Reviews
Full KIRKUS review here

"Davis's conversational tone makes him a great guide to these literary aperitifs. This is sure to leave book lovers with something new to add to their lists." FULL PUBLISHERS WEEKLY REVIEW here
During the lock-down, I swapped doom-scrolling for the insight and inspiration that come from reading great fiction. Inspired by  Boccaccio's "The Decameron" and its brief tales told during a pandemic, I read 58 great short novels –not as an escape but an antidote.
"A short novel is like a great first date. It can be extremely pleasant, even exciting, and memorable. Ideally, you leave wanting more. It can lead to greater possibilities. But there is no long-term commitment."

–From "Notes of a Common Reader," the Introduction to Great Short Books

Read "The Antidote to Everything," an excerpt from the Introduction published on Lit Hub
The result is a compendium that goes from "Candide" to Colson Whitehead, and Edith Wharton to Leïla Slimani. And yes, Maus and many other Banned Books and Writers.
Advance Praise for Great Short Books: A Year of Reading—Briefly
"GREAT SHORT BOOKS is a fascinating, thoughtful, and inspiring guide to a marvelous form of literature: the short novel. You can dip into this book anywhere you like, but I found myself reading it cover-to-cover, delighting in discovering new works while also revisiting many of my favorites. GREAT SHORT BOOKS is itself a great book—for those who are over-scheduled but want to expand their reading and for those who will simply delight in spending time with a passionate fellow reader who on every page reminds us why we need and love to read."

–Will Schwalbe, New York Times bestselling author of THE END OF YOUR LIFE BOOK CLUB

"This is the book that you didn't know you really needed. I began digging into this book as soon as I got it, and it was such a delight to read beautiful prose, just a sip at a time, with Kenneth Davis' notes to give me context and help me more fully appreciate the stories. Keep this book near your bed or on your coffee table. It will be read and loved."

–Celeste Headlee, journalist and author of WE NEED TO TALK and SPEAKING OF RACE
From hard-boiled fiction to magical realism, the 18th century to the present day, Great Short Books spans genres, cultures, countries, and time to present a diverse selection of acclaimed and canonical novels—plus a few bestsellers. Like browsing in your favorite bookstore, this eclectic compendium is a fun and practical book for any passionate reader hoping to broaden their collection— or anyone who is looking for an entertaining, effortless reentry into reading.
Listen to a sample of the audio book of Great Short Books
And Indie booksellers weigh in:
"Need something grand, something classic, uh…. something short to read, but don't know where to start? Check out Kenneth Davis's guide to Great Short Books and you'll soon find just the right tale to delight your literary palate. For each suggestion, Davis gives us first lines, a plot summary, an author's bio, a reason for reading it, and, finally, what you should read next from the author's canon. Pick up a copy… you'll be glad you did. You're welcome!"—Linda Bond, Auntie's Bookstore (Spokane, WA)

"Kenneth Davis has presented the perfect solution for too many books, not enough time—a collection of exceptional short books perfect for reading in a society seemingly without any free time.  Many of the books may be familiar by name, some are obscure, some even forgotten, but all belong in the canon of superb literature.  He teases with a brief synopsis and explains why each book deserves attention.  An absolutely intriguing bonus is a short biographical sketch of each author, many of whom had fascinating but traumatic lives.  It is the perfect book to provide comfort literature for busy readers."—Bill Cusumano, Square Books (Oxford, Miss.)
More early reviews from readers at NetGalley.com
"GREAT SHORT BOOKS is a wonderful, breezy but deep look at the outstanding short books of the last 150 years. Kenneth C. Davis is a genius at summarizing each book and making the reader want to read said book post haste. This is a book I didn't know the world needed but the world did." –Tom O., reviewer

"…an incredibly valuable tool for book clubs and readers everywhere! Some authors/titles are well-known and others will be new discoveries….HIGHLY RECOMMENDED for any book group looking to find new titles or any reader who wants to know what to read next." –Ann H. reviewer

"I found over a dozen new authors or titles I want to now read that were included in his main list, and the Further Reading at the end of each chapter and at the end of the volume itself.
As others have suggested, this is a great tool for Book Clubs!
Not Lit Crit, it is mostly focused on necessary, just-the-facts-mam information on one person's reading of short books over a year. Well worth a read, and great for browsing!" –Stephen B., Librarian

"What better way to introduce new readers to more than 50 'short' books. This handy book is full of non-spoiler descriptions and cultural context that situate these stories within our world." –Kelsey W., librarian

S0urce: Great Short Books via NetGalley
I can't wait to start talking about this book with readers everywhere.
Teachers, Librarians, Book Clubs and Other Learning Communities:
Invite me for a visit to your school, classroom, library, historical group, book club or conference.