(Original post updated 10/18/2021)
Answer: All of the enslaved people in Yorktown who had escaped to the British in hopes of freedom.
When the British forces under Cornwallis surrendered to George Washington and his French allies on October 19, 1781, the terms of capitulation included the following phrase
It is understood that any property obviously belonging to the inhabitants of these States, in the possession of the garrison, shall be subject to be reclaimed.

(Article IV, Articles of Capitulation; dated October 18, 1781. Source  and Complete Text: Avalon Project-Yale Law School)
That "property" clearly meant the thousands of  escaped enslaved people who had flocked to the British army during Cornwallis's campaign in Virginia in what has been called the "largest slave rebellion in American history."
They had come in the belief  that the British would free them. Cornwallis had put them to work on the British defense works around the small tobacco port, and when disease started to spread and supplies ran low, Cornwallis forced hundreds of these people out of Yorktown. Many more died from epidemic diseases and the shelling of American and French artillery during the siege.
Nearly five years later, in April 1786, Washington wrote to financier Robert Morris regarding the problems for enslavers caused by Abolitionists in Philadelphia:
"I hope it will not be conceived from these observations, that it is my wish to hold the unhappy people who are the subject of this letter, in slavery. I can only say that there is not a man living who wishes more sincerely than I do, to see a plan adopted for the abolition of it—but there is only one proper and effectual mode by which it can be accomplished, & that is by Legislative authority: and this, as far as my suffrage will go, shall never be wanting.

But when slaves who are happy & content to remain with their present masters, are tampered with & seduced to leave them; when masters are taken at unawar[e]s by these practices; when a conduct of this sort begets discontent on one side and resentment on the other, & when it happens to fall on a man whose purse will not measure with that of the Society, & he looses his property for want of means to defend it—it is oppression in the latter case, & not humanity in any; because it introduces more evils than it can cure."

Source: National Archives "Founders Online"
The African Americans in Yorktown included at least seventeen people who had left Washington's Mount Vernon  plantation with the British, as well as members of Thomas Jefferson's enslaved community also captured earlier in 1781. They were all returned to bondage, along with thousands of others as Virginian slaveholders came to Yorktown to recover their "property."
Among them was Isaac Granger Jefferson, a five-year-old boy who was returned to Monticello and later told his story.
The stories of some of the people "reclaimed" by Washington are told in my book, IN THE SHADOW OF LIBERTY: The Hidden History of Slavery, Four Presidents, and Five Black Lives.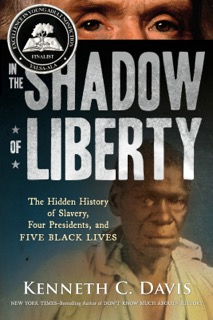 The Battle of Yorktown and role of African-American soldiers there –as well as the fate of the enslaved people in the besieged town — are featured in THE HIDDEN HISTORY OF AMERICA AT WAR: Untold Tales from Yorktown to Fallujah.
"A fascinating exploration of war and the myths of war. Kenneth C. Davis shows how interesting the truth can be." –Evan Thomas, New York Times-bestselling author of Sea of Thunder and John Paul Jones